Login
Log in if you have an account
Dont have an account? Register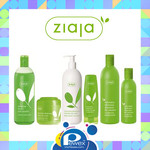 ZIAJA Green olive leaves
Green Olive Leaves is a series of Ziai cosmetics released on the occasion of the 25th anniversary of the brand.
The Ziaja cosmetic brand has created a new series of cosmetics Green Olive Leaves, which draws its power from the evergreen tree growing in the Mediterranean.

The beneficial effect of olive oil on our health has been known for centuries. Light texture, vitamin F contained in its composition moisturize our skin and help rebuild the lipid barrier of our epidermis. It has a soothing effect on irritation, it is also recommended for people with skin allergies, atopic skin or suffering from psoriasis. In addition, the oil has anti-wrinkle effect. Olive tree leaves contain oloeuropein, which is a natural antioxidant. It protects the skin against the harmful effects of free radicals and aging. Olive leaf extract regenerates the skin, nourishes it and smoothes the epidermis. It is an antioxidant 10 times stronger than green tea and twice as coenzyme Q10. It has a UV filter that protects our skin from harmful radiation. Ideally suited as a makeup remover. If you are not yet convinced, olive oil is great as an ingredient in the scalp mask - it works against dandruff and nourishes the hair. Advantages only!