Login
Log in if you have an account
Dont have an account? Register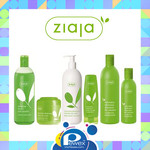 Ziaja Green Olive Leaves
"Ziaja cosmetics brand has created a new line of cosmetics Green Olive Leaves that draws its power from the evergreen tree growing in the Mediterranean." The series was created on the occasion of the 25th anniversary of the brand.
A jubilee series referring to our first product - natural olive cream.
The main substance is green olive leaf extract, which contains oleuropein - a natural antioxidant. It protects the skin against the harmful effects of free radicals and aging.
Olive leaf extract regenerates the skin, nourishes it and smoothes the epidermis. It is an antioxidant 10 times stronger than green tea and twice as powerful as coenzyme Q10. In addition, it has a UV filter that protects our skin against harmful radiation. Ideally suited as a makeup remover.
Cosmetics refresh and strengthen the skin and protect against water loss.
The series includes universal products for daily care.