Login
Log in if you have an account
Dont have an account? Register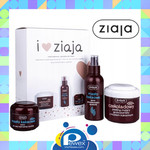 Ziaja Cocoa Butter
Cocoa butter is a wonderful preparation for all those who struggle with the problems of dry skin. It is a natural barrier that protects the skin against the negative influence of external factors and gives the skin a beautiful color.
Ziaja Cocoa Butter is a cosmetics intended for everyday use in the care of normal and dry skin.
Cocoa butter is a great way to protect the skin from external factors. It is distinguished by moisturizing, elasticizing and smoothing properties. It perfectly prevents irritation and accelerates the healing of already formed wounds, supports scarring and regeneration of the skin.
Cocoa butter perfectly moisturizes while preventing water loss. Therefore, it is recommended to use it on dry, damaged, flaky, irritated skin with wrinkles, psoriasis and eczema. In addition, cocoa butter has antioxidant properties - it significantly slows down the aging process of the skin.
Regular use of Ziaja cosmetics with cocoa butter restores the beautiful appearance of the skin and visibly improves its color.