Login
Log in if you have an account
Dont have an account? Register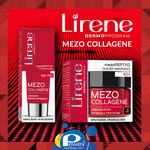 Lirene Mezo Collagene
Is it strange that we want to feel beautiful regardless of age? That regardless of whether we are 40 or 70, we are looking for care methods that will eliminate the signs of skin aging? No!!! Each of us wants to be beautiful and look young !!!
An effective alternative to invasive treatments for women aged 40+, 50+, 60+, 70+.
At a time when in-office treatments are a guarantee of speed of action measured by visible effects, products for daily home care in their functions cannot be left behind. A step towards meeting the need for quick and visible lifting, smoothing and firming effects was the creation of the LIRENE MEZO COLLAGÉNE product line with formulas using technologies that mimic those known in-office treatments such as mesotherapy.
REPAIRING meso-PEPTIDE - stimulating 10 factors of skin youth, is a unique system of controlled non-invasive mesotherapy. It activates regenerative and rejuvenating processes in the skin, stimulates the natural skin repair system and increases collagen production. Wrinkles are smoothed and the skin is elastic and visibly rejuvenated.